#ONEWEEK is an annual week-long local mission in your hometown of Columbus, GA.
Throughout this week, we aim to serve like we see in Matthew 25.
In his parables and wisdom, Jesus tells us if we are in the faith,

we will serve the hungry, thirsty, stranger, naked, sick and imprisoned.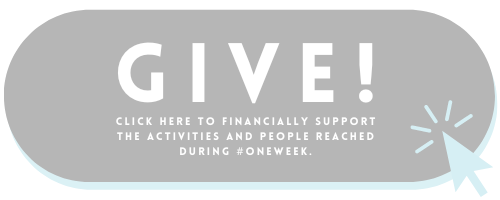 Please see the following breakdown of the ways you can get involved this week! Anyone and everyone is encouraged to join any of the events!
Sunday, July 17th – Hosted at Eden Church
3021 Sandy Parkway, Columbus GA 31909
12:30 Volunteer Lunch provided by Subway

2-3pm: Training

3-4pm: Book-Bag Stuffing

4-5pm: Intimate Worship and Prayer

6:30-8pm: Break for Dinner in Columbus
Monday, July 18th – at Midtown Coffee
1342 13th Street, Columbus, GA 31901
11-12pm: Lunch with Fire Chiefs at Midtown

6:30-8:30pm: Bible Study at Midtown
Tuesday, July 19th – at Easterseals
2515 Double Churches Rd, Columbus, GA 31909
11-12pm: Lunch with Easterseals at Cerrone's Pizza

4-5pm: Prayer & Worship

5-6pm: Set-Up

6:30-8:30pm: Easterseals Yard Work and Landscaping Volunteering
Wednesday, July 20th – at Northside Softball Fields
2010 American Way, Columbus, GA 31909
11-12pm: Lunch with Police at Minnie's Downtown

4-5pm: Prayer & Worship

5-6pm: Set-Up

6:30-8:30pm: Kickball Runner-Up
Thursday, July 21st – at Freedom House and Damascus Way
Freedom House: 7200 Manor Road, Columbus GA 31907
Damascus Way: 1200 11th Ave, Columbus, GA 31901
11-12pm: Lunch SafeHouse & Damascus Way at Momma Goldberg's

4-5pm: Prayer & Worship (see locations)

5-6pm: Set-Up (see locations)

6:30-8pm: SafeHouse and Damascus Way Events
Friday, July 22nd – at Cascade Hills Park

982 56th St, Columbus, GA 31904
10am-11pm: Book-bag Stuffing at Eden Church

11-12pm: Lunch with Family Advocacy Ministries at

Jason's Deli

4-5pm: Prayer & Worship

5-6pm: Set-Up

6:30-8:30pm: Family Advocacy Ministry

(Live Music and Prayer, Play Grounds, Popsicles, Water Games…)
Saturday, July 23rd – at M2540
3406 6th Avenue Columbus, GA
9-11pm: Big Event Set-up

11-2pm: Community Event / Festival

(Water Games, Bounce Houses, Food, Face Paint…)

2-4pm: Breakdown and Clean-up